This post is written by Curtis Mulder, who was recently in La Limonada with a group from Ekklesia Church in Raleigh, North Carolina, where he is a pastor. He lives in Raleigh with his wife Rachel and two daughters, Kyra and Megan. 
This morning at church, nine of us had a chance to share some thoughts and reflections from our mission trip to La Limonada with Lemonade International.
If I had more time, I might have shared a little more about Beatriz — an absolutely beautiful 3 year old girl being raised by a mother who was selling herself and her children at a bar in La Limonada for profit.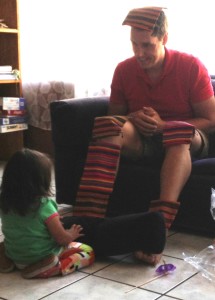 In this picture Beatriz is laughing and giggling and stacking hand-made coffee bags on my legs and head. She was as playful and joyful and mischievous and silly and innocent as my own daughters, Megan and Kyra, when they were her age.
At first, my internal anger was 100% directed toward this mother. Whoever she was, she didn't even deserve the moniker.
Mother.
But then, in my mind, I began to wander back through the streets of La Limonada — thinking about the kind of desperation that would drive a mother to this. And my anger shifted toward the systems and structures that could allow such desperation to exist. Selling your child(ren) for sex is infinitely more complicated than being a bad mother.
If we had more time, perhaps I would have described the manner in which Tita told us the story of Beatriz's mother. I would have told you about the compassion and sorrow and tenderness and great love in Tita's voice. She even called her beautiful.
She didn't hate her.
She loved her so much that it hurt her.
Like so much of our trip, I don't really know what to do with that. I don't know how to process that kind of love. I only hope that our world (and my heart) is infected with more of it.
– Curtis Mulder
This post originally appeared on the blog Falling Into Certainty.
Post a Comment or Prayer