Athentikos highlight video from last year's Art Camp
---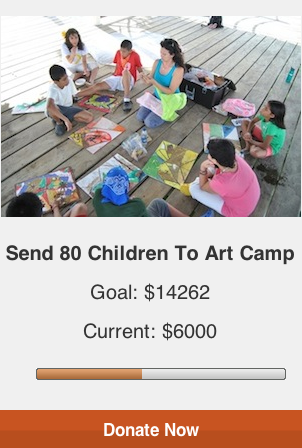 "ValorArte": Art Camp 2012
The theme of this year's art camp is "ValorArte" – which is a play on words in Spanish. "Valor" means "To Value"… and "Arte" means "Art"… but the word "Valorarte" means "Value Yourself".
Give by October 10th so 80 children from La Limonada will have the opportunity to learn, laugh and play at the beach – many for the first time in their lives.
Join us today by clicking "Donate Now" to give the children of La Limonada an experience they will never forget.
$150 = Art Camp for Two Children
$75 = Art Camp for One Child
$25 = Meals for One Child
$10 = Art Materials for One Child
The purpose of the Art Camp is to teach students to express their emotions and to process their life experiences through the arts. This year we are focusing on their self-image in Christ. We are thrilled to help make Art Camp happen again this year and to provide the students the opportunity to heal by giving them joy, confidence, freedom and a week full of fun!!
Our friends from Athentikos will be partnering with the team in Guatemala and together they will teach art classes, Bible lessons, lead games and more. The art classes involve music, clowning, sculpture, drama, collage and building with LEGO bricks. Last year, LEGO provided a generous donation of various bricks and games along with funds to cover some of the camp expenses. This year, LEGO has again donated funds to cover 1/3 of the cost. The remaining balance is being raised in Guatemala and in the US so that the camp is completely free for all students.
Post a Comment or Prayer