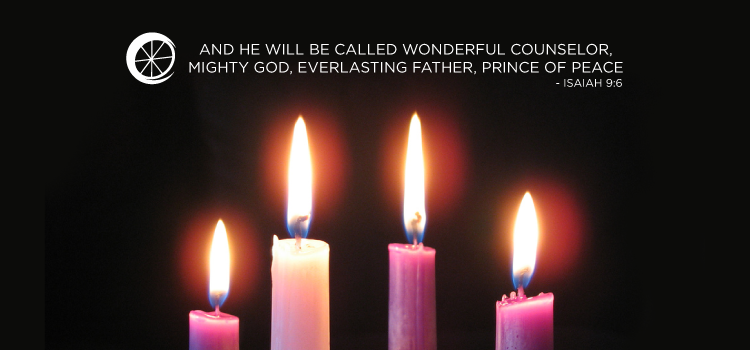 This Advent season, as we prepare our hearts for the birth of Jesus, we have invited a series of guest bloggers to reflect on the different names given to the coming Messiah in Isaiah 9:6. As we move towards Christmas, we invite you to reflect with us on the earth-shaking implications of each name, both for ourselves and for the people of La Limonada. Kelli Gotthardt began with Wonderful Counselor and last week Sarah Quezada reflected on Mighty God. For the third week of Advent, Paul Burkhart considers Jesus as Everlasting Father.
Imagine a tiny nation in fear. Their leaders have failed them and have abandoned all principles of dignity and justice for the sake of securing the place of the powerful. Their political alliances have ravaged their economy, autonomy, and national security. They still live in the shadows and aftermath of civil war and the meddling of other larger, more powerful nations looking to take advantage of this one, it's resources, and it's people—with no consideration of the long-term effects. Most in this nation live in apathy and ignorance of the injustice in their midst. The powerful do not care, the privileged do not see, and the rest just try to survive.
What would this nation do? Where would be its hope? To whom would it lift its eyes?
This is Guatemala. This is La Limonada. But it was also the nation of Judah.
God's holy nation had split into two after bitter civil war, leaving Israel to the north, and Judah in the south. In the Southern Kingdom, Ahaz was a wicked, wicked king. To the detriment of his own people, he made political and economic alliances with Assyria, who eventually destroyed the Northern Kingdom and left Judah economically ravaged and politically fearful.
It was in the midst of this that God's people, given voice by Isaiah, cried out for the coming of a different kind of ruler who would, among other things, be an Everlasting Father to them. And sure enough, their next king Hezekiah fit this bill, but it was fleeting. His reign gave way to Judah's worst kings and ultimately the destruction and exile of their nation as a whole.
Why, in spite of its fleeting and faltering results, do we as nations and people continue to look for a "Father" of some kind in the midst of our deepest crises and pain? For God's Old Testament people, this led to their desire for a king in the first place. In Latin America, it has led to its bloody history of despotic strongmen and caudillos, not least of which have been in Guatemala.
The "Everlasting Fathers" we cry out for in our distress are imbued with authority and power that we give them. We do this hoping for salvation, comfort, strength, and provision. And yet, they often use this power to the benefit of a few and the harming of many. Those in La Limonada still suffer as they live within the deepest scars carved into the Guatemalan countryside, discarded by these very leaders.
For some, Isaiah's cry still echoes against the valley walls in which La Limonada is nestled. For many others, their mouths are stopped, no longer believing that a father, a counselor, a prince—or God himself—will ever come. Many in La Limonada have only experienced fathers that are gone, have killed, have been killed, or have been subjugated in a twisted strata of social hierarchy built around power and violence and despair.
And yet when the truest fulfillment of this name walked on this earth in his first Advent, he showed us a very different way of ruling and reigning, of providing and comforting, of being strong. He was the perfect imprint of our Father God among us. And as he lived, Jesus showed us what the Everlasting Father looks like.
He is a God of justice, whose presence and strength is seen most clearly, truly, and powerfully in the midst of the hurting, forgotten, and marginalized. His way of strongly loving is justice itself. When he sees dignity robbed, he lives to see it restored. When he sees lack, he gives himself fully to bring about abundance. When he sees ignorance, he strives to bring the light of knowing. And when he sees the discarded, he gives them a People to love and be loved by.
And as he did then, he does now.
Having walked the narrow corridors of La Limonada; having seen the blood-stained sidewalk; having watched the light of children learning and dignity restored; having experienced relationships created not on the basis of power and servitude, but of common humanity and the love of God; having smiled, laughed, cried, played, and prayed with the very same people within a span of minutes; I have seen and felt the Fatherhood of God in Jesus echo through the Everlasting ages into the Now. I have seen in the hands and feet and hearts of those in La Limonada and Lemonade International the embodiment of Jesus' own hands and feet and heart breaking through Eternity into our own Present.
I have seen the fullness of Jesus' first Advent, and the promise of his second made real as so much life is birthed in the midst of such death, and done with so little in resources.
And I have also seen why, in our deepest hurt, we long for an Everlasting Father.
It's because, at the end of the day, we're all children waiting for Daddy to come home again.
– Paul Burkhart
Paul Burkhart lives in Philadelphia, PA. He is a deacon at Liberti Church and is currently working on his M.Div. through the Newbigin House of Studies at Western Theological Seminary. He works in social work, mainly in the areas of mental health and street homelessness. He blogs at The Long Way Home. He was proud to be part of the Lemonade International 2013 Bloggers Trip.
Post a Comment or Prayer