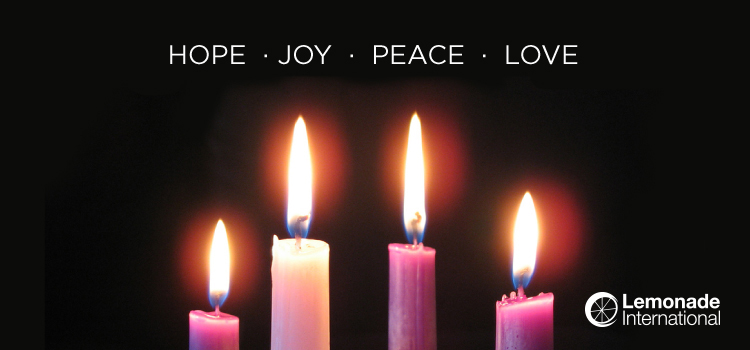 This Advent season, as we prepare our hearts for the birth of Jesus, we have invited a series of bloggers to reflect on hope, peace, joy, and love. We invite you to reflect with us on the implications of what Jesus did on our behalf and on behalf of the people of La Limonada. During the first week of Advent, Chris Schutte reflected on our hope. In the second week, Katie Hoiland reflected on peace. Third, Emily Sexton reflected on joy. Today, Christy Tennant Krispin reflects on love that stays.

–
It was raining as my son and I made our way from the parking lot to the movie theater on Friday to see the new Star Wars movie. His Luke Skywalker costume – an oversized karate jacket from a thrift store and a lightsaber tucked into his Cub Scouts belt – attracted smiles and winks, and I got more than a few "thumbs ups" from people who appreciated the sight. After waiting for an hour in line, we filed into the theater, all anticipation and wonder as we tried on our 3D glasses, ate our massive bucket of popcorn, and laughed at the fun we were having.
No one looking at us would have guessed that my son has been my son for less than two years.
As we waited for the movie to start, I couldn't help but remember what life was like those first few months after a social worker dropped him and his baby sister off at our house. As new foster parents, my husband and I had no parenting experience and minimal training, so on day six of their placement with us, when the "honeymoon period" ended, we were not prepared for what followed: violent outbursts, fits of rage, running away from school, hiding, and non-stop talking. It was mentally, physically, and emotionally exhausting, and it took a toll on everyone in the house.
After one particularly difficult afternoon, my nerves frayed and my faith on edge, I phoned a friend of mine who has worked as a CPS social worker for many years. She gave me what has become some of the best advice I have ever received. "If you can make it past four months, you'll begin to see a turn. Just stay. Stay with him."
Just stay. Stay with him.
My husband and I, who had been determined from the start that we would keep this child for as long as the state placed him with us, made a fresh resolve that we would stay, not knowing how – or how long – it would take to get to a healthier, less chaotic home life.
Thankfully, my friend was right. The turn was subtle at first: less hitting, less running. But over time, after four months turned to eight months, then a year, we were amazed to look back and see incredible progress. Slowly, our foster son began improving in school, making friends, and, most importantly, trusting us.
After more than two years in foster care, and after twenty months in our home, we were allowed to adopt our boy and his baby sister. Often, I think about what might have happened if we had decided it was just too hard – if we had given up. We would have lost out on an incredible gift. While our son still experiences some effects of early trauma, and while he will carry with him the unique and often difficult story of how he became our son, he is thriving, and today he is growing to be a remarkable boy whose intelligence, humor, wit, and exuberant enthusiasm for life bring tremendous joy to our home and to everyone who knows him.
The Bible is full of examples of love that stays. The father of the prodigal son stayed in wait for him. Hosea stayed with Gomer. Ruth stayed with Naomi. Staying is one of the most striking aspects of Christ's love for us, too. I have tested God, been filled with rage, run away from what he was calling me to do, and hidden from his grace. Yet all along, he has stayed with me, somehow believing in the potential of what I might someday become. This is an incredible mercy that I might never have appreciated if I had not become a foster parent.
First John 4:19 says that we love because Christ first loved us. I think, in many cases, we can replace the word "love" with the word "stay." We stay because Christ first stayed with us.
– Christy Tennant Krispin

Christy and her husband currently have three children. Christy's YouTube channel, A Fostered Life, aims to equip and inform those interested in becoming foster parents, and her blog, Coffee Stains on my Bible, offers devotions to cultivate the practice of prayer, study, meditation and application for spiritual formation. The Krispins live in Seattle.
Post a Comment or Prayer