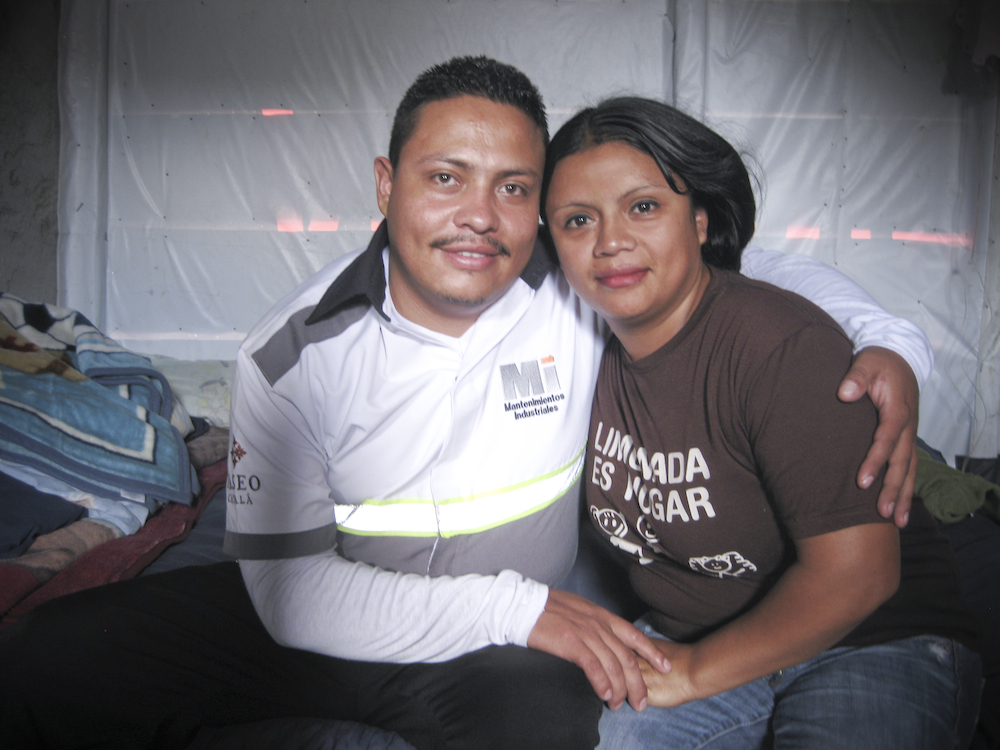 Growing up in La Limonada, Gloria and Edy faced the harshness of deep poverty, surrounded by nearly constant violence, pervasive gang activity, and broken home lives. Without seeing alternatives for a different way of life, hope didn't come easily.
On January 11, 2006, the two met at a Chinese restaurant called Laky Mein in Guatemala City. Edy can recount the details all these years later, including how he immediately fell in love with the beautiful 24-year-old mother of two. Only 17 himself, he caught her attention with his good looks and respectful manner. Swept up in love, they were married only four months later.
Today they are more in love than ever. And yet their eight years together have not been all romance and happiness. Life circumstances are still difficult, and their marriage suffered when Edy went through a difficult stage of life. In Gloria's words, "Edy fell down again and our love began to fall apart." She prayed for him faithfully, asking God to restore him. In November 2012, her prayers were answered when Edy made the decision to turn around his life for good.
However, making a decision to change is easier said than done. Having a La Limonada address and obvious tattoos quickly prevent any job opportunities. Filled with shame, Edy used a razor in an attempt to shave the tattoos off his arms and face. He was desperate for an opportunity to support his family with honest work. I can still hear the emotion in his words as he remembered "wanting his wife's tiredness to be his" when she came home from work. God heard his cries and honored the ever encouraging and prayerful Gloria. Early in 2013, Edy beat the odds of La Limonada residents by getting a job directing cars at a fancy mall. Though he has a long commute, often at night in one of the most dangerous cities in Central America, he was filled with joy and the pride that comes from good work.
Edy and Gloria are now both attending high school all day on Saturdays with the hope of a better future for themselves and their children. Gloria asks "that God will continue to bless his work and give him the strength that he needs each day." She also hopes they will both grow as good and loving parents despite the lack of love they saw demonstrated growing up. Edy said, "Now I pray that God would touch her heart and that God would be the center of our home and marriage. The devil wants to attack us but in the name of God; the Lord is in our marriage."
Gloria tells us:
There will always be problems in every marriage and the devil tries to pull us down but God will always win. Even if the problems win for a while, God always wins. We always say we're together for a purpose, and that purpose is God
Edy continues:
The love of God shows us to love each other. God is touching our hearts and transforming us… God's always been with us in each problem that we've faced and we've been together through it all… God united us for a purpose… My message for Valentine's Day is to love each other because real love only comes around once in a lifetime. Love each other like Christ loves us. In every relationship there will be problems, but you have to put God first and the problems second and God will take care of those problems. Love is magnificent.
God is continuing to transform and lavishly love Gloria and Edy. Let us keep them in prayer as they love their family, live changed lives, and pour out the love of Jesus on their community. And let us learn from their great love for God and each other this Valentine's Day.
– Katie Høiland
Post a Comment or Prayer