Our friends in La Limonada face many challenges each and every day. Some may be clearly visible, but others are less obvious at first glance. Here are six challenges faced by children and families in the community, along with six ways child sponsorship is sowing seeds of hope.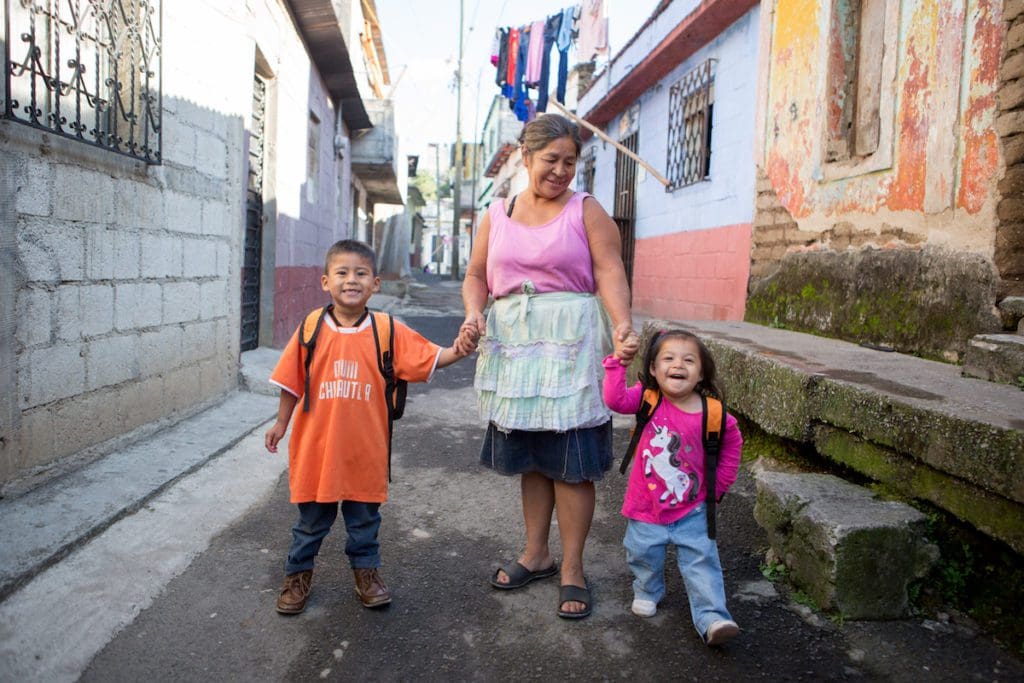 Challenge #1: Children in La Limonada attend overcrowded and underfunded public schools for only half a day.
According to USAID, only three in ten children in Guatemala graduate from sixth grade.
How Sponsorship Helps:
Sponsorship ushers the children into academies with teachers who love them, who will embody the love of Jesus, help with their homework, supplement what they are not learning in a half day of public school, and teach them critical thinking, basic life skills, and important values.

Challenge #2: Many families can't afford to keep the lights on in their homes.
The physical darkness represents more than an inadequate place for a child to play, do their homework, and thrive. It permeates hearts – choking out motivation, hope, and childlike energy.
How Sponsorship Helps:
The academies offer a bright, cheerful space to do homework with love and tutoring from their teachers. Did you know doing justice could mean something as simple as providing light bulbs?

Challenge #3: Children in La Limonada are growing up around constant reminders of the gang violence that dominates their community.
Walking to school in La Limonada means passing by walls littered with bullet holes and older boys who carry guns and fiercely defend their neighborhood lines.
How Sponsorship Helps:
The academies offer a safe alternative to the streets, allowing mothers to find work instead of worrying about their kids being raised by the gangs. A stark contrast to the tense streets and dark homes where kids grow up fast, our academies are filled with hope, laughter, and light – both literal and metaphorical. Kids can be kids here.

Challenge #4: Chronic hunger and malnutrition are a major concern for children in Guatemala.
According to USAID, chronic malnutrition causes children to drop out of school, lowers their productivity, makes them susceptible to illness, and even a loss of intellectual quotient.
How Sponsorship Helps:
Children know they can expect one hot meal at the academies, five days a week. Rather than remaining preoccupied with anxiety over when they will eat next, they know a healthy and consistent meal will be available each day. These meals enable the children to focus on learning as they grow and begin to think clearly, with strengthened immune systems.

Challenge #5: Drug use is fueled by hopelessness about the future.
When your formative years are spent watching people suffer, steal, or be killed, it is all too easy to numb the pain with drugs.
How Sponsorship Helps:
Hopelessness is combatted by providing tangible reasons for hope. Through sponsorship, teachers can be faithfully present for the children – offering relationship, faith, words of encouragement, and principles for turning away from the cycles of violence, crime, and depression. Never underestimate the power of someone believing in you and trusting in the abundant life Jesus has for you!
Challenge #6: Many of the parents are burnt out and tired of grueling poverty.
They want something better for their children, but are faced with hard decisions. One mother recently asked Tita, "Is it better for me to leave to work so my children eat and let them be raised by the streets or to stay home to watch over them and have no money for food?"
How Sponsorship Helps:
Parents sense that the teachers provided by sponsorship are sharing their burden. Through home visits, School for Parents, and the knowledge that someone is there for their children, parents are allowed to hope for a better future for their entire families. One mother said, "In the academies, my children were safe from the contamination of violence."
Help sustain needed change, Sponsor a child today!
Through child sponsorship, you are entering into relationships of solidarity with the children and families of La Limonada. Thank you for doing your part to make hope a possibility in this community we love!
Post a Comment or Prayer