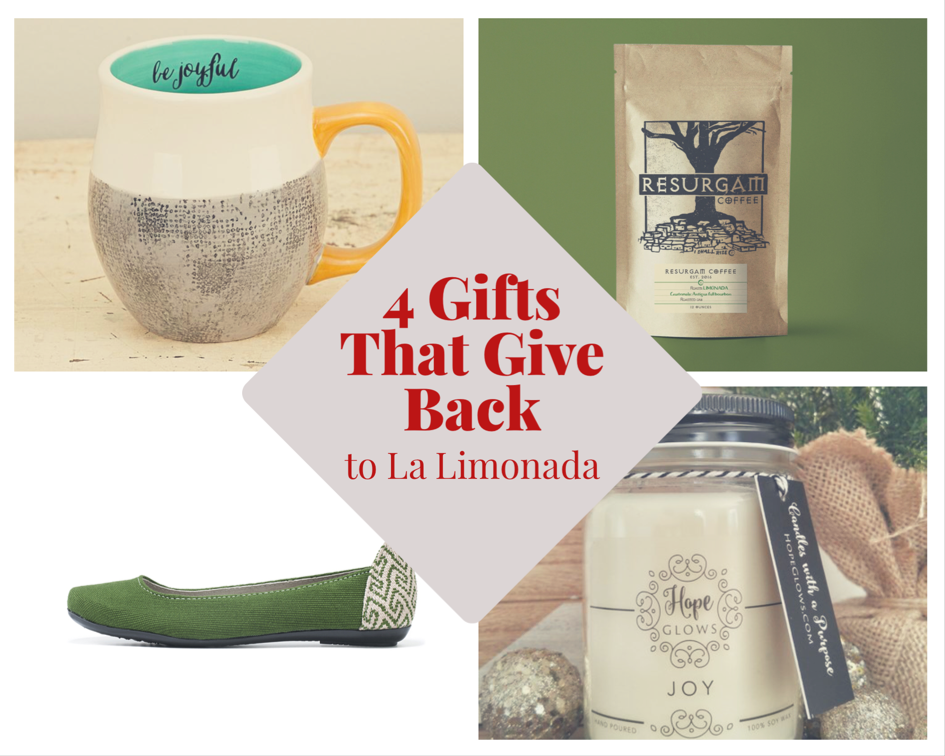 It is our JOY to highlight a few amazing gift ideas from friends and partners who have taken their skills and passions to create quality products that honor everyone from the maker to the children in La Limonada. They have chosen to donate a portion of their proceeds to our Give Christmas campaign and to give back throughout the year.
This is purchasing with purpose.
We've compiled 4 gifts that will spread JOY to your loved ones and to La Limonada at the same time (including order dates to ensure delivery before Christmas)!
1. Hope Glows
Gift Spotlight: "Joy" Scented Candle
We love these natural, soy wax candles hand poured by our friend Lindsay Stevenson. Seasonal scents include Hope, City of Oaks, Vanilla & Cedar, Sugar & Spice, Brandied Pear, and JOY. With phthalate free fragrances and cotton-core wicks, these candles burns cleaner and longer than standard paraffin candles.
Christmas Special: Free shipping on orders of $50 or more, with code "SHIPS4FREE"
Last Day for Shipping: December 11
2. Resurgam Coffee
Gift Spotlight: "Limonada" Roast Coffee
With four blends to choose from, Resurgam offers an incredible cup of coffee for every preference. They sample-roast Guatemalan beans to get them to peak performance with the right amount of flavor, consistency, texture, and ridiculously good aromatics. Be sure to check our their Constant Cup coffee subscription as well!
Christmas Deal: 12 oz bags of Coffee are on sale for $11 and T-shirts for $10 until December 31st!
Last Day for Shipping: December 22
3. The Root Collective
Gift Spotlight: "Gaby" Ballet Flat in Kelly Green
The Root Collective partners with small-scale artisan businesses in marginalized communities, like our dear friend Otto from La Limonada, to promote change through dignified jobs. They make Otto's handcrafted ballet flats available worldwide.
Last Day for Shipping: December 17
4. The Flourish Market
Gift Spotlight: "Be Joyful" Mug
The Flourish Market began as an online boutique and fashion truck and just opened a brand new store in downtown Raleigh, North Carolina. With a beautifully curated selection of bags, jewelry, clothing, and gifts ethically sourced from around the globe, you can't go wrong. But in light of our theme of JOY, we especially recommend this great mug!
Christmas Deal: Free shipping AND 10% of every order donated to Give Christmas with the code LEMONADE.
Last Day for Shipping: December 16
---
2 Bonus Gifts that Give Back:
1. Give a donation in honor of a loved one!
What to give the person who is still difficult to shop for? Giving a donation in honor of a loved one can be a wonderful way to extend gifts of justice and joy to the vulnerable in La Limonada while sharing that joy with someone you love. When you make a donation of any amount, you can download a printable card to fold, customize, and hand deliver!
Last Day to Shop: December 31
2. Planning to shop with Amazon?
If you are planning to do your Christmas gift shopping on Amazon, we hope you will designate "Lemonade International" as your charity of choice through Amazon Smile. When you do, 0.5% of your purchase price is donated to us!
Post a Comment or Prayer