Today's guest post is written by our friend Lindsay Stevenson. Lindsay has been a committed child sponsor, group member, advocate, and entrepreneur. She started Hope Glows, which gives back to the academies. Stay tuned for upcoming Fall scents!
As a #ProudLemonadeSponsor, are you writing to your sponsored child? Today, Lindsay shares a few great tips for engaging your family in sending love and friendship to your sponsored child in La Limonada. Further guidelines on writing to your child are in detail here.
_
Sponsoring a child in La Limonada is about more than giving money. It's about a relationship. All of us want to know that we are seen and valued. Taking the time to encourage the child you sponsor is a meaningful way to communicate value and care.
Most days I can barely respond to text messages and emails in a timely manner, so I know how hard it is to remember to write a letter to a child that you may have never met. However, I believe it is an opportunity for us to grow in kinship with this child. Knowing where to start can feel a bit daunting. Here are a few ideas to move us to action. Or, if you have been a sponsor for a while, perhaps you can glean some new ways to keep your relationship growing.
1. Share about where you live. Send a postcard of a local attraction, tell about your favorite things to do in your area, or include a picture of a map that shows where you live in relation to Guatemala. Here is a great printable map and coloring pages for each state are available here.
2. Send a hug. This is a great one for kids to do! It's simple and easy: On paper, trace and cut out your child's hands. Using ribbon and tape, attach the hands together, leaving enough room between them to wrap around someone like a hug. You can find an example here.
3. Get Creative. Art needs no translation. A drawing, watercolor, or even a coloring page is something that can spark joy for the receiver. This is good for children and adults alike! Send along a coloring sheet and some watercolor paints and ask your sponsor child to send a picture back to share their own creativity.
Even a simple card and note can be meaningful. However you choose to best express yourself, share it with your sponsored child. There is a child in La Limonada who wants to know you! For more inspiration and ideas, be sure to take a look at the Lemonade International Pinterest board.
-Lindsay Stevenson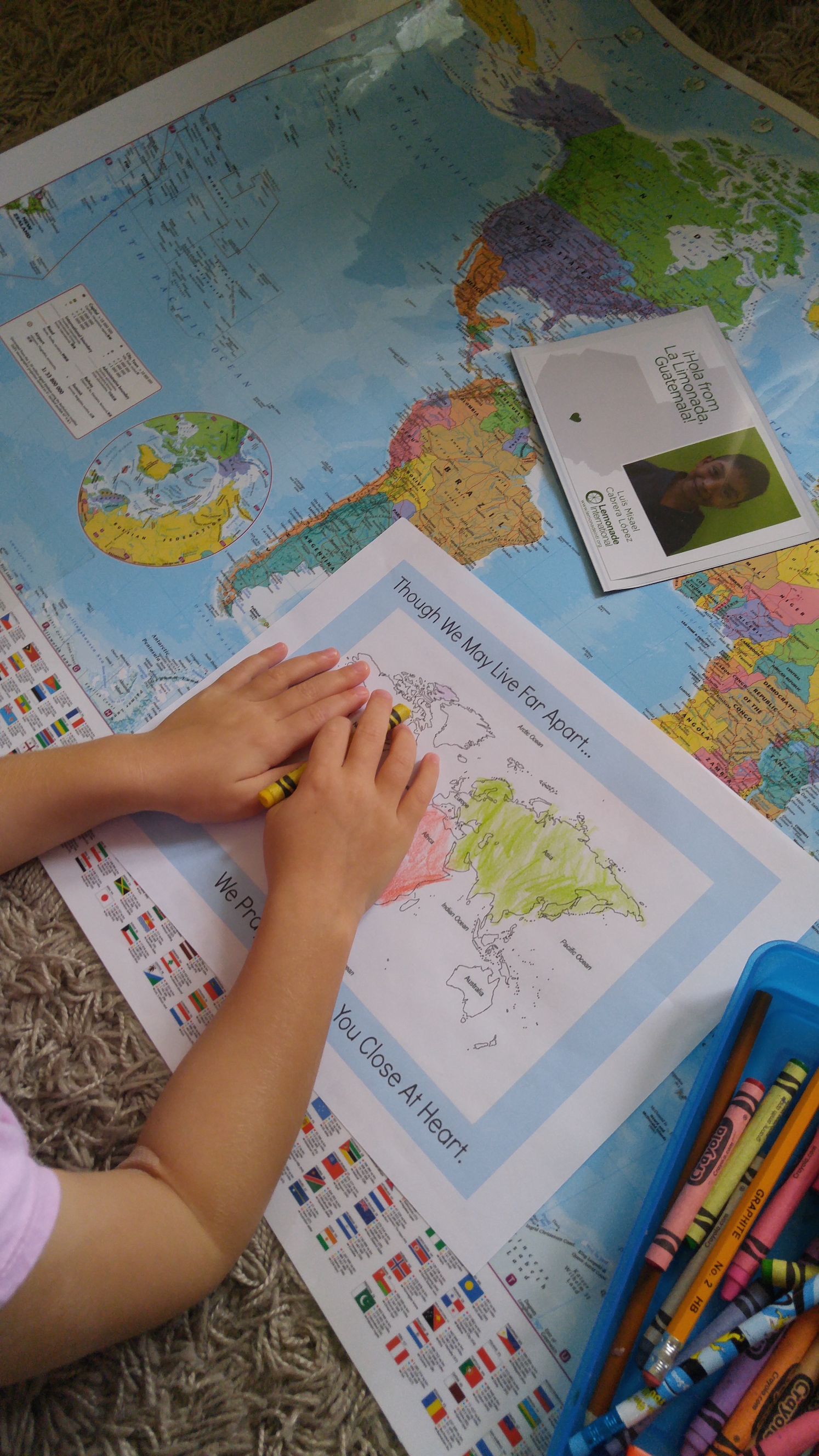 Post a Comment or Prayer